Online Suggestion Box Overview
Anonymous employee feedback is a great way to foster candid, multi-directional communication, which helps you: expose and address issues, discover valuable ideas and suggestions, improve employee engagement, and build a culture of continuous improvement.
Focal BOX™ is an online suggestion box that enables employees to share their anonymous feedback with you about anything anytime. When they enter their feedback into a special webpage, you receive it instantly via email. You can also reply directly while maintaining employee anonymity, if you want to enable this feature.
Uses include:
Improving your organization's culture
Uncovering hidden issues and opinions
Discovering ideas to grow your business
Gathering feedback about company meetings
Surfacing health and safety violations
Revealing compliance or policy concerns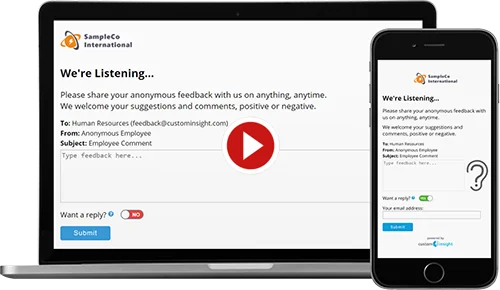 FREE for 30 days(no credit card required)
Trusted by thousands of organizations