Sample Email Requesting Employee Feedback
Subject:
Anonymous Employee Feedback Tool for all SampleCo Employees
Dear Employees,
We are excited to announce our new online suggestion box. We created this to help us listen better to you as we continue improving our organization. Whenever you want to share your anonymous feedback with us, just go to [suggestion box link] and submit your feedback. It will go straight to HR. We welcome your questions, comments, complaints, and compliments.
If you request a reply and enter your email address into the designated field, HR will be able to respond to you directly, with your anonymity protected by a trusted third-party intermediary (as described here). Your submissions will be forwarded, and the replies routed back to you without exposing your email address or identity. Also, HR will periodically share feedback received and action taken in response.
So you can easily access our online suggestion box in the future, please visit it now and bookmark it in your browser.
Sincerely,
Human Resources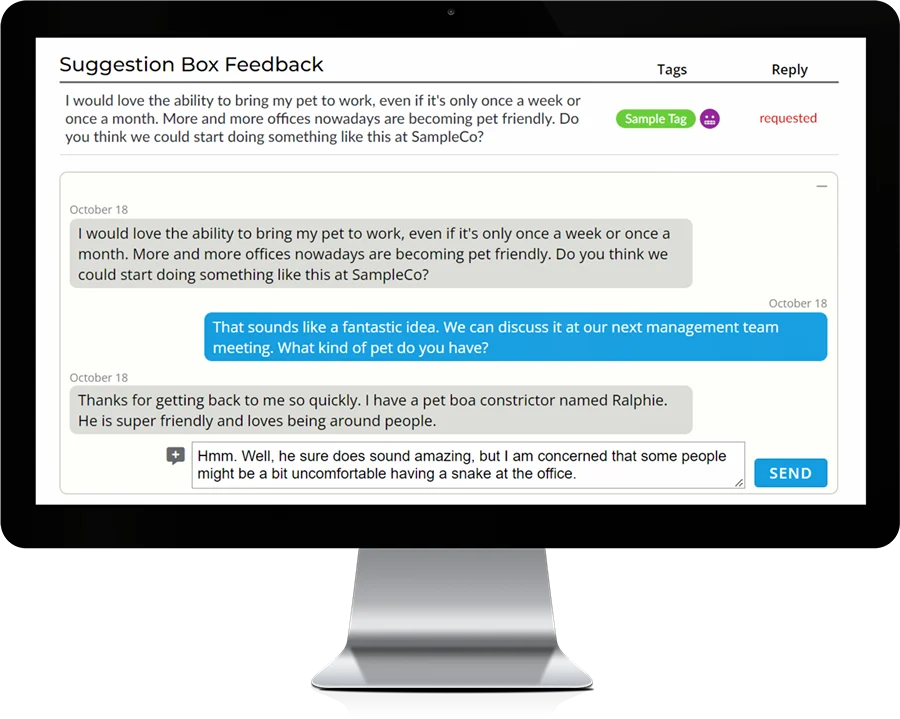 Employee Suggestion Box with Anonymous 2-way Conversation
Use the "anonymous reply" feature if you want employees to have the option to request a response when they submit feedback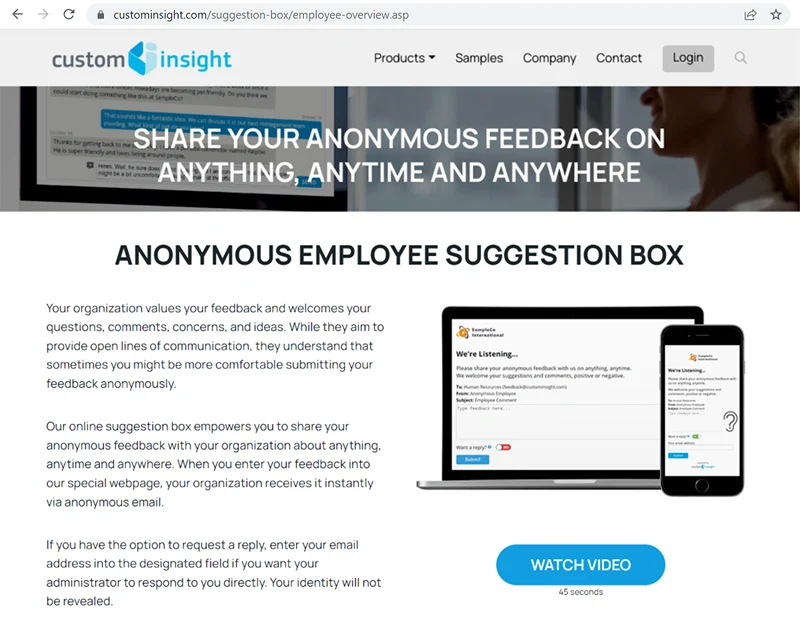 Examples of Anonymous Employee Feedback
Below are examples of actual feedback from employees at a variety of organizations. How much valuable employee feedback are you currently missing out on?
Feedback
The company is growing quickly. The growth opportunities and ability to move between manufacturers and fields is amazing. Keep on doing what you guys are doing and keeping the employees' best interest in mind. I am excited to see where the future takes us.
I would love the ability to bring my pet to work, even if it's only once a week or once a month. More and more offices nowadays are becoming pet friendly.
Is there a way to make meetings more efficient? I see that weekly meetings are drawn out because of interruptions and questions during presentations. Usually most questions brought up through interruption are answered later with in the presentations themselves. I believe it is most efficient to allow a presenter to present their findings wholly without interruption and save questions for the end of presentation for each presenter.
Allow the option to work from home at least 1 day per week. So many companies offer it these days. Studies revealed that workers who are allowed to work from home were more productive, got more done and used less sick time.
I wanted to commend our company for their quick decision making during this ongoing pandemic. Once the decision was made to keep our staff safe by working from home they provided all hardware in no time and continues to provide us with support during these unprecedented times.
If we get sick because we are forced back to work in the castle is the company going to pay our medical bills?
I'd like to encourage our leadership to reference somehow the ongoing protests we have seen over the last week or more. This is hard to navigate and I don't think anyone expects a public statement or a lengthy position, but a note to staff acknowledging ongoing events could go a long way. I would guess that most of us have been inundated with news, social media, hard conversations with family, friends, and ourselves, and knowing that we are all grappling with and acknowledging these issues would be welcome, particularly as we can't be together to discuss them. Thanks for considering.
I understand all the touchy-feely emails from leaders checking in on how we're feeling and offering support for our personal well-being, but this doesn't solve anything. I get that we don't control the government or public sentiment but there has to be something more that can be done. We're huge. Aren't we masters of influence? We've got a lot of expensive tools at our disposal for measuring sentiment, understanding trends, etc. We tout our behavioral science chops. Can't this be applied to more than just getting people to buy a beverage? What can we physically do to change what is wrong. Giving money doesn't do it. Showing support has no affect. Literally, what boots-on-the-ground, game changing (Cannes winning if that is what it takes) thing can we do to change minds, influence the cause of justice, and make black lives matter?
Would it be possible to make the Town Hall meeting voluntary for those who feel disconnected? Or make it an after-hours social call, or at least maximize it to once per month? I feel too connected and struggle to get my work done in between the huge amount of video conferences I'm attending every day. The Town Hall meeting did not bring any value for me.
I would suggest that we be allowed to work from home on a limited capacity ongoing. This would allow for less people to be in the office at a given time with the virus still present and also afford people the ability to work from home in situations such as inclement weather, car issues, etc., and help working families. I believe that we have demonstrated our ability to work from home productively and it would be nice to continue to be allowed that option even if it's on a limited allowable WFH time per week/month/yr.
I just want to take the time out to thank our IT department. They helped us move into a smooth transition for work from home.