Employee Engagement, Strategic Alignment, & Performance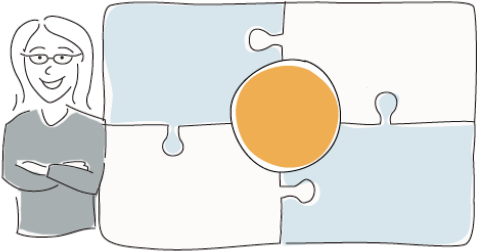 High
Performance

Performance = Engagement x Alignment x Competency
Focal EE is structured around the four key components that drive employee performance.

Engagement and Alignment are measured with the Focal EE employee survey. Competency can be measured within the employee survey using our "upward feedback" module, or it can be measured separately with 360 Degree Feedback.

For a more detailed explanation of the employee engagement and performance model, click here.

Focal EE starts with a list of carefully selected and statistically validated survey items. Once employees have completed the questionnaire, the interactive employee engagement dashboard enables you to dig deep into the survey results to understand the dynamics of engagement throughout your organization.
---
Employee Engagement Survey
Actionable results is the name of the game here. Very short employee engagement surveys that contain just a dozen or so items can do a great job of identifying whether you have problems with engagement, but they will leave you with more questions than answers. With tools like these, the survey itself is only the first step in the discovery process. It will need to be followed by focus groups, expensive consulting, and/or additional follow-up surveys in order to get a clear picture of what is really going on.
Is 7 minutes too much to ask?
That's how long it takes most employees to complete the questionnaire.

Our standard employee engagement survey includes 53 carefully selected questions, most of which are similar to those found on our list of sample employee survey questions. The questionnaire has been statistically validated and benchmarked against a wide range of organizations.


On average, it takes employees just 7 minutes to answer all 53 items, so the burden on your workforce will be small. The added depth and detail will leave you with many more answers and far fewer questions.

We strongly encourage our clients to use the complete 53-question survey, but for those who insist on something shorter, we also have a 32-question version available. The shorter version is less comprehensive, but it still covers the issues that are most critical to employee engagement.

Most organizations find that our standard list of employee survey questions work well for them, but you can add additional items if needed.
---
Virtual Focus Groups - A Customized Survey for Each and Every Employee!
We take "actionable results" to another level by asking targeted follow-up questions in the areas that are most relevant to each employee who completes the survey. This means our employee engagement survey probes deeper into the specific issues that are of concern to each one of your employees.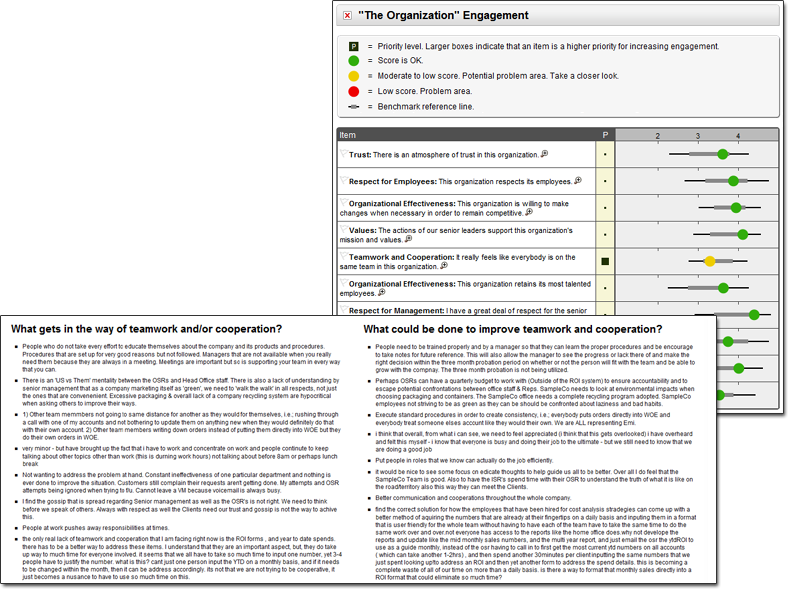 The company shown here has strong engagement overall with the exception of one area -
Teamwork and Cooperation
.
Employees whose responses indicated that "teamwork and cooperation" was weak were asked to elaborate on the nature of the problem as well as proposed solutions to the problem. The company received several pages of detailed written comments that enabled them to better understand the issues and also suggested some ways to fix these issues.
Numeric results and comments can also be viewed for specific demographic subgroups, which will enable you to isolate and target localized problems within your organization.

---
Employee Engagement Dashboard - Probe Deeper with Powerful Analytical Tools
This is where things start to get exciting!
The Employee Engagement Dashboard enables you to quickly and clearly identify not only global engagement themes and issues within your organization, but more importantly, what parts of your organization are "at risk" due to specific, localized engagement problems.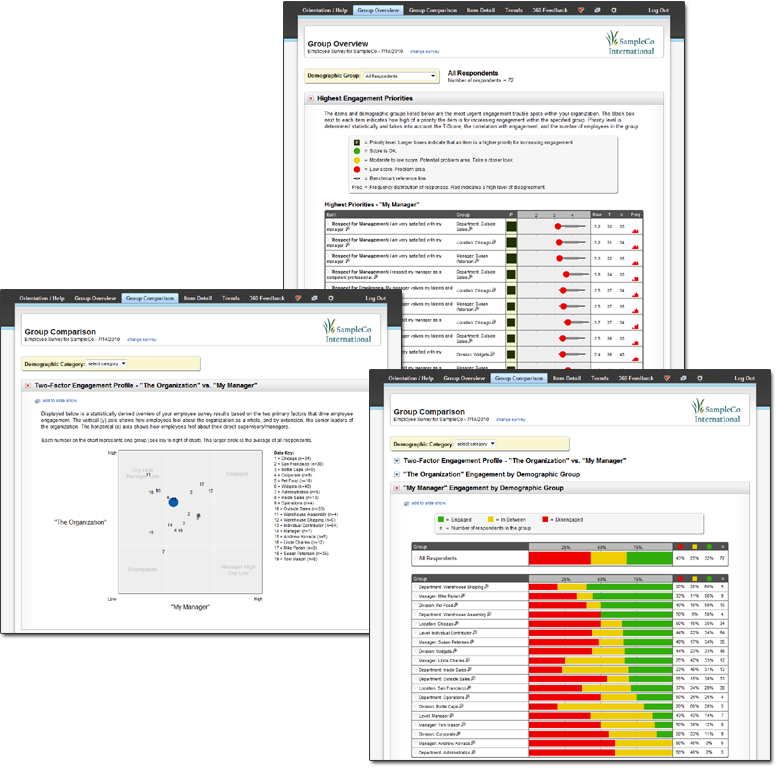 Scalpel vs. Sledgehammer
In our experience, most engagement issues are local. Companies sometimes have broad-based problems that need to be addressed company-wide, but regardless of how a company is doing overall, there are always things happening further down in an organization that are having a negative impact on engagement within a specific department, location, workgroup, etc. The employee engagement dashboard will enable you to instantly identify these problem areas within your organization so you can take action more quickly and with greater precision.
This is the analysis tool that the big consulting firms wish they had... and wish you didn't have since it makes most of the work they do obsolete.
View Sample Reports
---
Are you ready for an employee survey?
Readiness Assessment
Do you have the necessary support of senior leadership and key stakeholders? Are you prepared to confront the problems and issues that the survey uncovers?

Implementation Plan
Do you have a plan and timeline in place for the entire process - before, during, and after the survey? Conducting the survey is only one part of this process.

Communication Plan and Sample Employee Survey Email
Do you have a plan for communicating the plans, goals, and intentions of the survey process with senior leaders, managers, and employees?